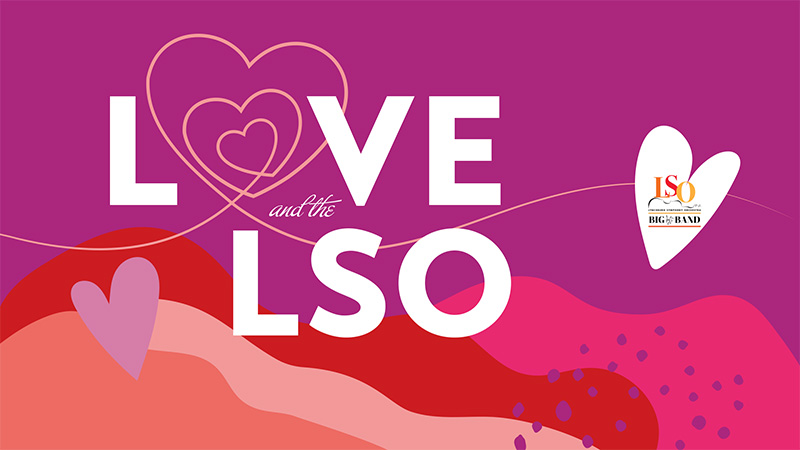 Love and the LSO
Saturday, February 11, 2023
The Virginian Hotel
Party with the LSO's Big Band on Valentine's Weekend.  Join in the dancing, singing, and overall merriment at the Virginian Hotel with swing music and great food.
TICKETS ARE ALMOST SOLD OUT!  Purchase yours today by calling the LSO office at 434-845-6604 or email info@lynchburgsymphony.org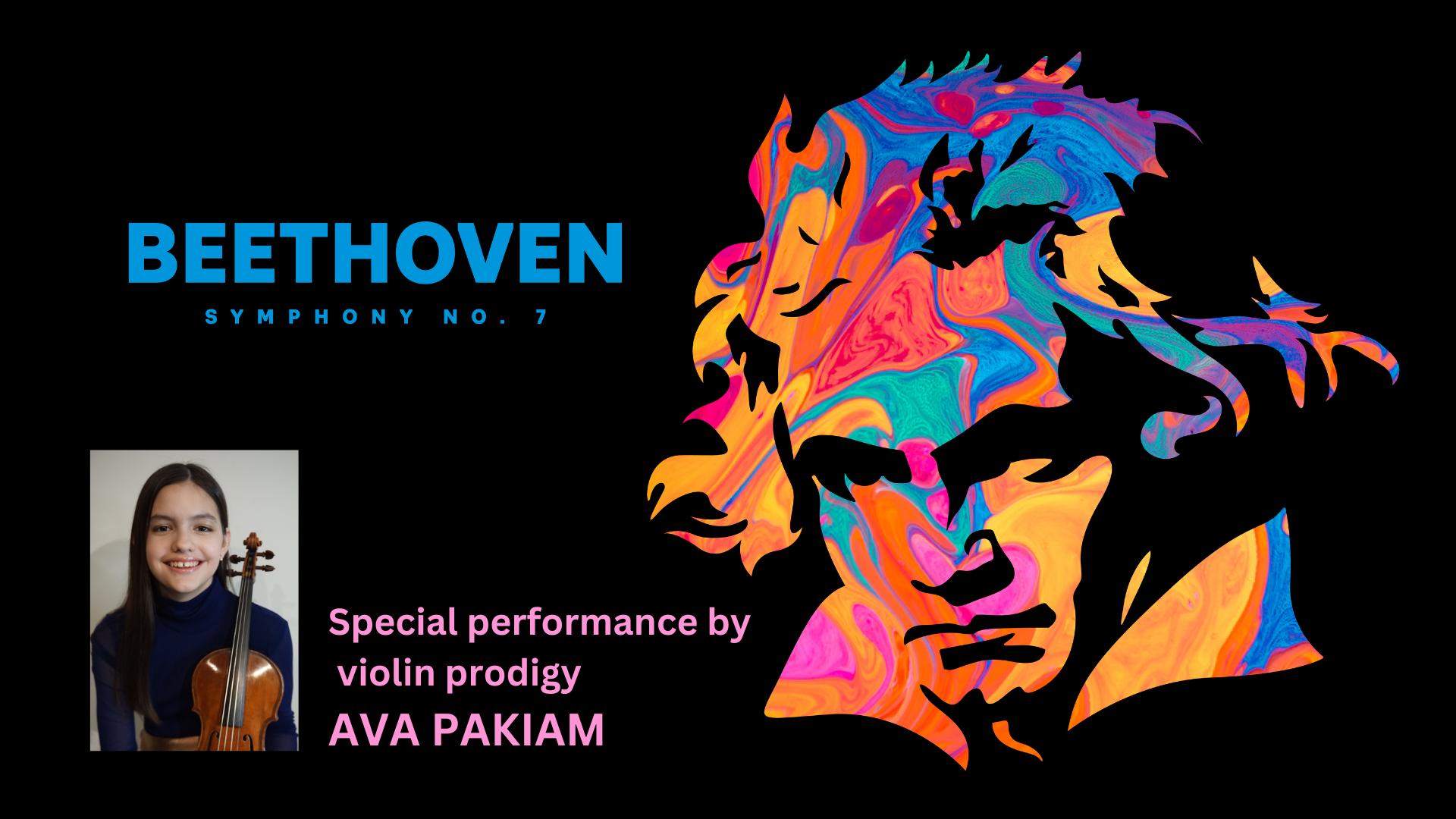 Beethoven's Seventh Symphony
Saturday, March 11, 2023
Academy Center of the Arts – Historic Theatre
You will want to dance right out of your seat during this concert of dance-inspired classical favorites. Beethoven seventh symphony was once called "the apotheosis of the dance", and remains one of the most joyous, exuberant, and rhythmically vital pieces of orchestral music. In addition, the orchestra plays William Grant Still's Danzas de Panama and a suite from Igor Stravinsky's humorously bouyant ballet, Pulcinella. This will be a ride you don't want to miss!
JUST ADDED – SPECIAL GUEST ARTIST!  We are pleased to announce that this concert will also include a performance of Zigeunerweisen by Sarasate, featuring guest artist Ava Pakiam.  This 13 year-old violin prodigy made her solo debut at Carnegie Hall at the age of 8, and has performed with numerous orchestras throughout the U.S.  She is currently a student at the San Francisco Conservatory of Music.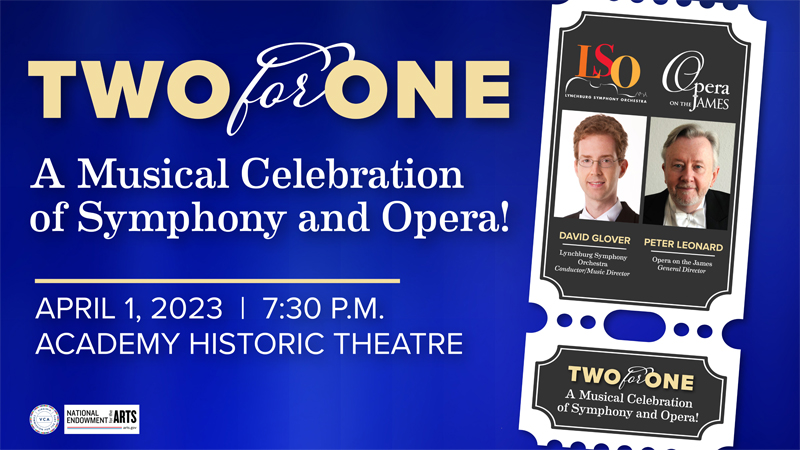 Two For One
Opera and Orchestra
Saturday, April 1, 2023
Academy Center of the Arts – Historic Theatre
Together on stage for ONE NIGHT ONLY, a thrilling evening of orchestral splendor and songful melody brought to you by Opera on the James and the Lynchburg Symphony Orchestra. Double the excitement as TWO organizations and TWO conductors share the performance!
First, orchestral fireworks with Peter Leonard leading the Lynchburg Symphony in famous melodies from Carmen and more. Then the fun increases with David Glover leading the LSO and Opera on the James in Puccini's hilarious Gianni Schicchi, featuring the beloved aria, O Mio Babbino Caro. It's TWO SHOWS IN ONE for two hours of music and joy!
Don't miss this unique, one-time event: two of Central Virginia's largest performing groups join forces to bring you a double delight!
Broadway Comes to the 'Burg
Saturday, May 20, 2023
Academy Center of the Arts – Historic Theatre
You will want to sing along with our superstar Broadway talent as we perform hits from Phantom of the Opera, My Fair Lady, Les Miserables, Hairspray, The Wizard of Oz, Frozen, and many, many more.  Hugh Panaro, best known for performing the title role in Phantom on Broadway over 2,000 times, and two-time Olivier award nominee Scarlett Strallen will join maestro Glover and the orchestra for this unforgettable evening.
Happy Holidays with the LSO
Saturday, December 3, 2022
Academy Center of the Arts – Historic Theatre
Rejoice in the season with the LSO's Happy Holidays concert.  There's snow other place than the LSO to kick off your holiday season in the right mood with favorite carols, familiar traditions, and festive tunes. Join us and our special guest vocalists for a family friendly and uplifting evening of holiday favorites.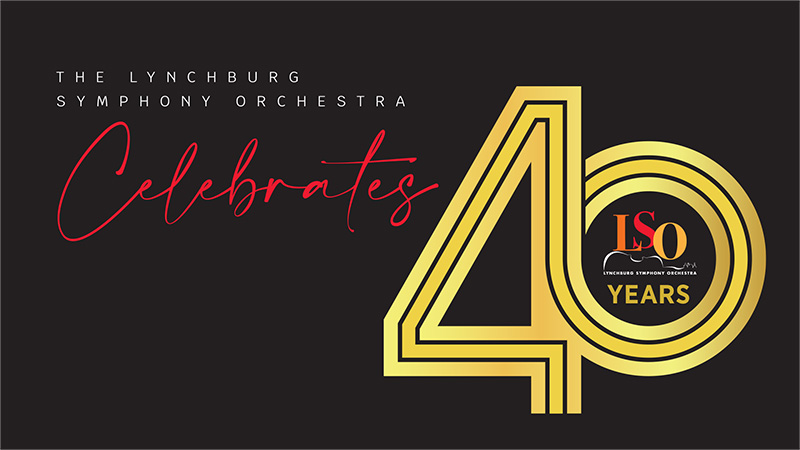 LSO Celebrates 40 Years
Saturday, October 8, 2022
Academy Center of the Arts – Historic Theatre
Celebrate the opening of our 40th season in style with a concert celebrating our orchestra's roots.  40 years ago, the LSO began its first season with Aaron Copland's Lincoln Portrait, narrated by Senator John Warner.  Now 40 years later, we once again open our season with this piece, narrated by Astronaut Leland Melvin.  The program also includes Dances in the Canebreaks by Florence Price and concludes with one of maestro Glover's favorite works, the second symphony of Johannes Brahms.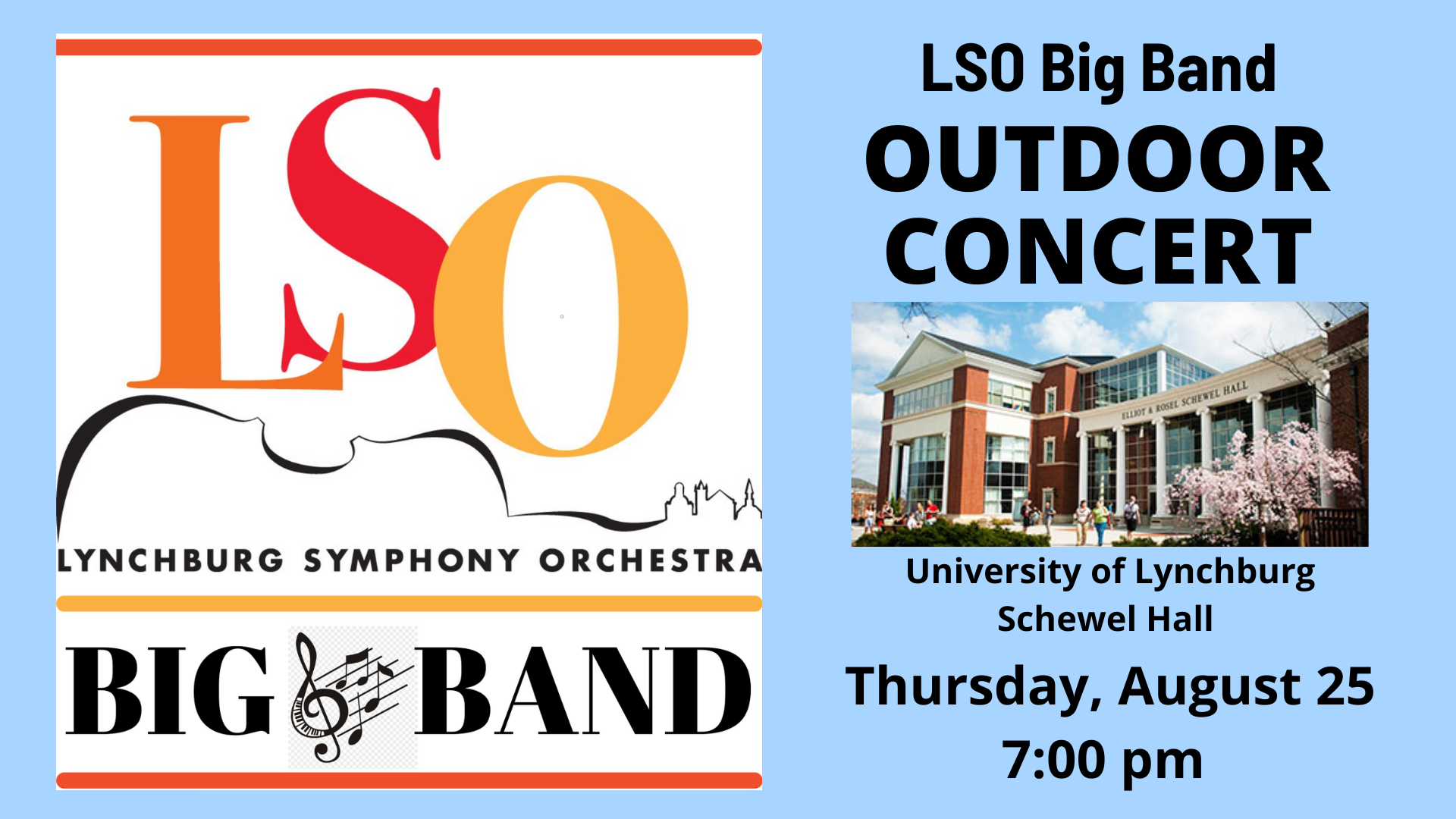 LSO Big Band Outdoor Concert
Thursday, August 25 at 7 pm
Schewel Hall – University of Lynchburg campus
Our annual end-of-summer concert has a couple of new wrinkles this year! First – it will feature the LSO Big Band, which debuted last February to tremendous acclaim, in their first outdoor concert! Second- the concert will be held on the patio in front of Schewel Hall on the campus of the University of Lynchburg!
The concert will take place on Thursday, August 25, at 7:00 pm, outside
Schewel Hall at the University of Lynchburg, on College Street in Lynchburg.
Attendees will be treated to a fun and lively evening listening to the LSO Big Band, under the direction of Maestro David Glover, along with individually packed hors d'oeuvres and beverages. Dress is casual, with tables and chairs provided.
Tickets are $75 each/$150 per couple. Special reserved tables are $500 and seat up to six. Purchase your tickets by calling the LSO office at 434-845-6604 or email info@lynchburgsymphony.org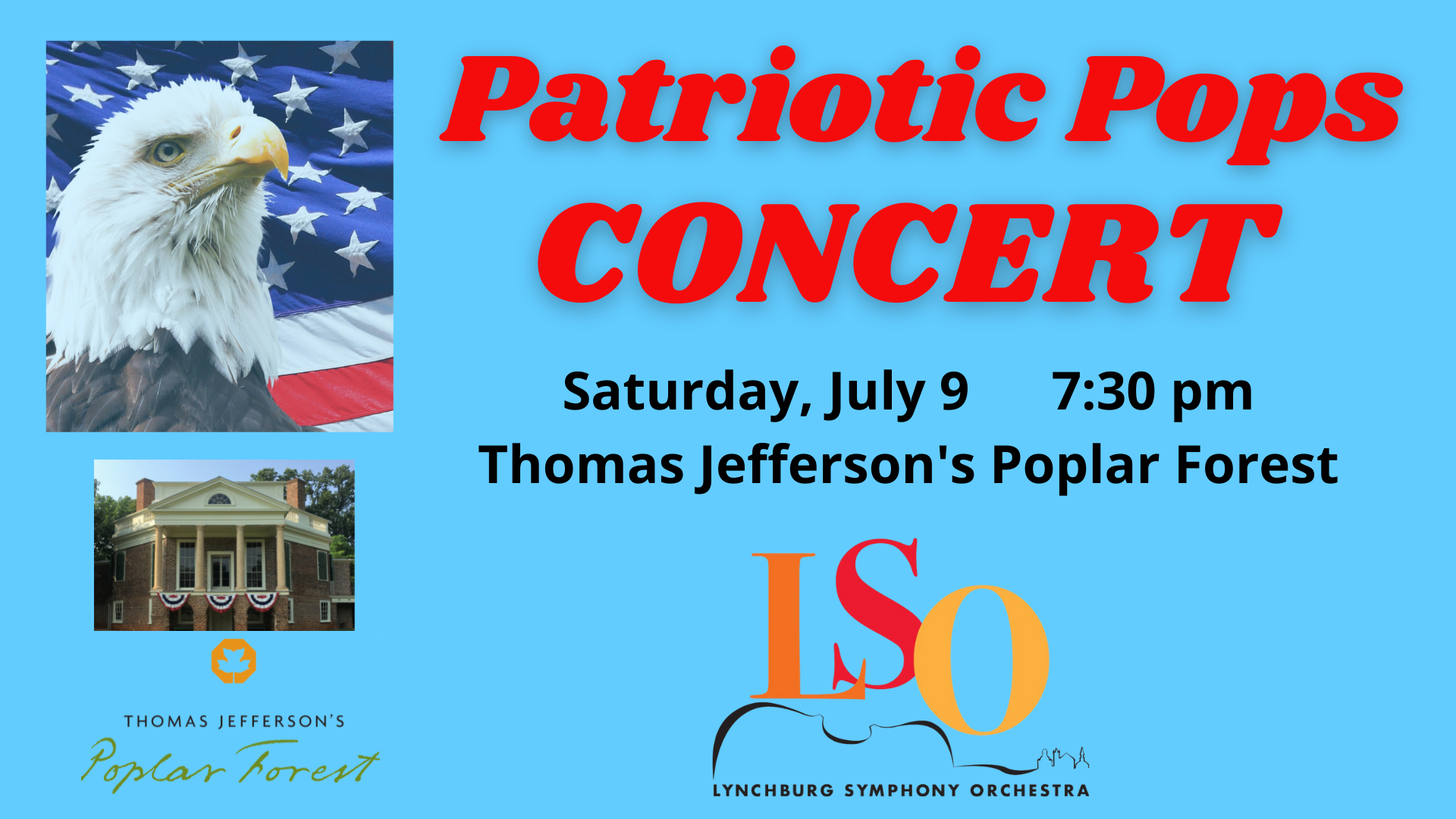 Patriotic Pops at Poplar Forest
Saturday, July 9, 2022 @ 7:30 pm

Thomas Jefferson's Poplar Forest
The LSO presents a exciting new addition to its concert series, "Patriotic Pops", on the grounds of Thomas Jefferson's Poplar Forest in Bedford County.
The orchestra will perform a collection of patriotic tunes and classic American music by John Philip Sousa, John Williams, and many other favorites. The concert will take place outside on the South Lawn of Poplar Forest, Thomas Jefferson's private retreat in Bedford County.  Also participating will be Thomas Jefferson himself, as portrayed by renowned interpreter Bill Barker, courtesy of The Thomas Jefferson Foundation.
This event will be "lawn seating". Patrons should bring their own chairs or blankets to place in the general seating area, on the South Lawn.  Food and non-alcoholic beverages will be allowed onto the grounds, though concessions will also be offered for purchase.
That's Entertainment!
Sounds from the Cinema
Saturday, May 21, 2022 @ 7:30 pm
The LSO performs the music of movies and video games with some of the most familiar symphonic compositions of the past 100 years. Be transported to a galaxy far, far away with the iconic themes of Star Wars, escape danger with Indiana Jones, and battle with Assassin's Creed, all from the comfort of your seat, watching the energy unfold on stage as our musicians bring these amazing soundtracks to life!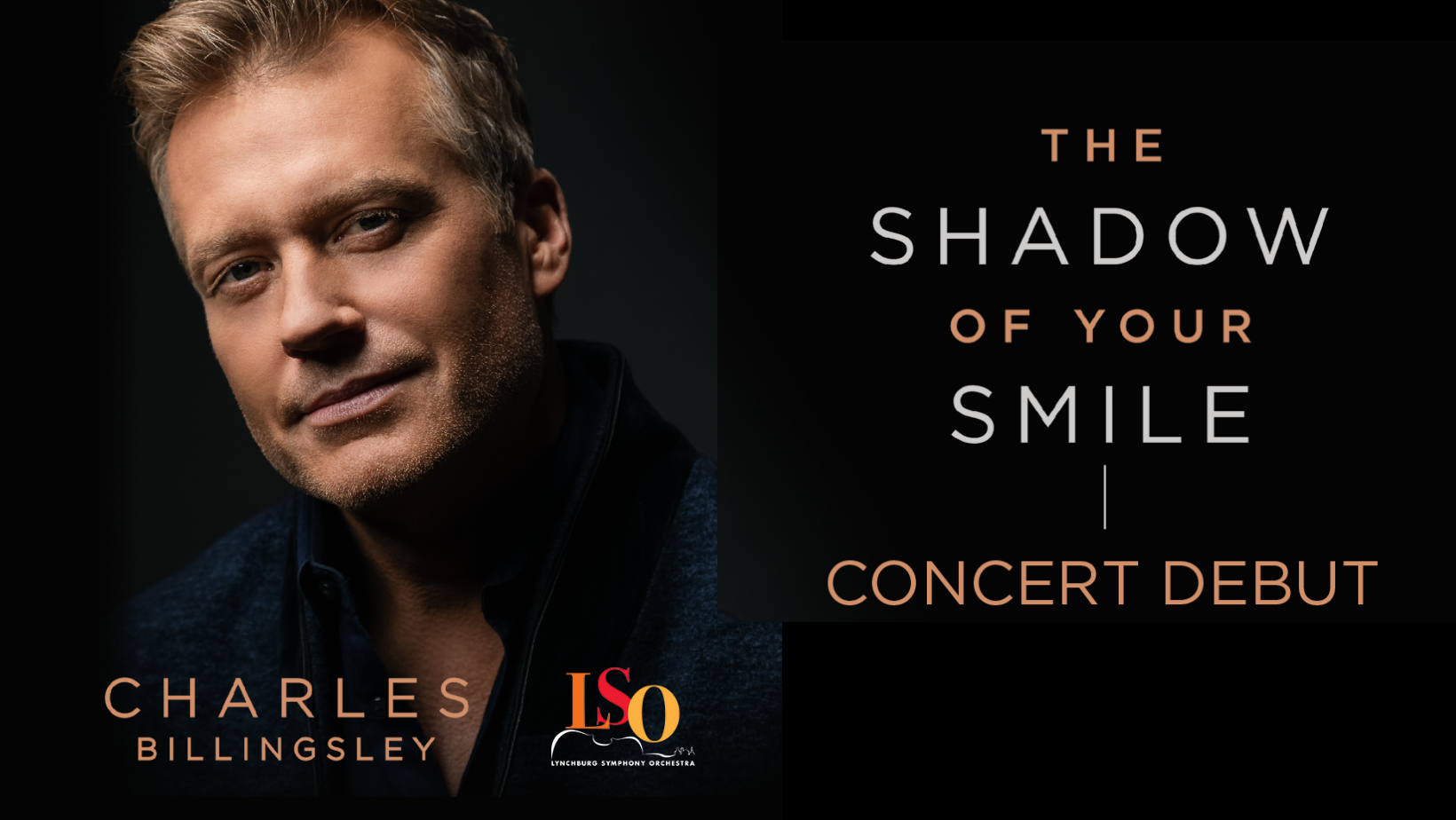 Photo courtesy of Charles Billingsley
Charles Billingsley with the LSO
Friday, May 13, 2022 @ 7:30 pm
* SOLD OUT ! *
Popular crossover vocalist Charles Billingsley will perform the Debut Concert of his new CD titled "The Shadow of Your Smile", in partnership with the Lynchburg Symphony.  The program features American standards and classic songs accompanied by full orchestra, along with the "LSO Big Band".  In addition to the title song, selections will include "You'll Never Walk Alone", "Time to Say Goodbye", "Bring Him Home", "Danny Boy", and many others.
Beautiful Blue Ridge
Saturday, April 9, 2022 @ 7:30 pm
The LSO will celebrate Lynchburg's natural beauty in a concert that features spectacular artwork, synchronized to music inspired by nature. In collaboration with the Maier Museum of Art at Randolph College and Blue Ridge Photographic Arts Society, artwork and photography will be projected behind the orchestra as the musicians perform Vivaldi's Four Seasons with Concertmaster Yevgeniy Dovgalyuk, Copland's Appalachian Spring, and Jessie Montgomery's Starburst.
Love and the LSO
Saturday, February 12, 2022 @ 7:30 pm
* SOLD OUT ! *
Join us for a night of swingin' music, featuring the LSO's own big band. Come for a special dinner and stay for dancing. Have a romantic Valentine's weekend with your sweetheart in style, at downtown Lynchburg's historic Virginian Hotel.
Ticketholders will receive an email prior to the event with important reminders.
Happy Holidays with the LSO
Saturday, December 4, 2021 @ 7:30 pm
A favorite Lynchburg tradition, the 4th annual LSO holiday concert features guest musicians and vocalists, who will join the symphony to celebrate the most wonderful time of the year. Well known carols, comforting holiday traditions, and spectacular orchestral arrangements combine to create a joyous event for the whole family.
Lynchburg's Finest
Saturday, October 2, 2021 @ 7:30 pm
The LSO celebrates homegrown talent with this spectacular concert, featuring the virtuosic violin playing of Lynchburg native Emily Rist Glover, wife of our current Music Director, David Glover and a violinist with the North Carolina Symphony. In addition, the stars of tomorrow will appear as the Lynchburg Symphony Youth Orchestra joins the LSO in a special side-by-side performance. Also performing will be Lynchburg-based composer and pianist, Susan Morris, premiering new orchestral arrangements of her own compositions, and the concert will conclude with the LSO performing a symphonic blockbuster.
Summer Twilight Concert
Thursday, August 19, 2021 @ 7:00 pm
Back by popular demand, this special outdoor concert will feature an LSO chamber ensemble, performing light classical and popular selections, hosted by Maestro David Glover. Tickets include individually-packaged hors d'oeuvres, beverages, and top-quality live music. Dress is casual, with tables and chairs provided. Guest should plan to arrive between 6:30 and 6:45pm.
Tickets are $75 each/$150 per couple. A limited number of special reserved tables are available for $500 and seat up to six. Purchase your tickets by calling the LSO office at 434-845-6604 or e-mail info@lynchburgsymphony.org
Lynchburg Symphony Orchestra &
Time for Three
Saturday, May 1, 2021 @ 7:30 pm
Historic Academy Theatre
Defying convention and boundaries, Time For Three stands at the busy intersection of Americana, modern pop, and classical music. The LSO is excited to perform with these guest artists, and you'll to hear the various eras, styles, and traditions of Western music fold in on themselves and emerge anew. Bonded by an uncommon blend of their instruments fused together with their voices, Charles Yang (violin, vocals), Nicolas "Nick" Kendall (violin, vocals), and Ranaan Meyer (double bass, vocals), have found a unique voice of expression to share with the world.
Lynchburg Symphony Orchestra 
621 Court Street
Lynchburg, VA 24504