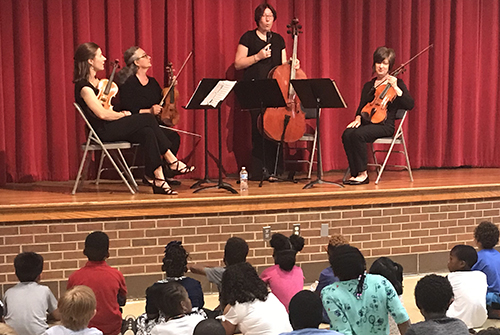 Hundreds of children in the Lynchburg area have an opportunity to personally experience groups of LSO musicians. It's part of the orchestra's Musicians in the Schools program, which gives young people exposure to live performance, while teaching them about both popular and classical music, and instruments.
The LSO's Youth Education project began in the 2000s with area students bused to educational concerts at E. C. Glass High School. Due to lack of funding, busing students was no longer an option. Since then, the LSO has taken string and brass musicians to area schools, recreation centers and civic organizations. Since its beginning, more than 15,000 students have participated.
Thanks to a generous grant by the Greater Lynchburg Community Foundation, sections of the LSO perform at various schools in the Spring through early Fall.
Musicians in the Schools also continues during the summer months. Ensembles have played educational concerts at elementary and middle schools, and for the YMCA's summer program. Even younger ages get in on the experience, including a concert at a local preschool.
For more information about how LSO musicians can visit your school or classroom, contact our office at info@lynchburgsymphony.org.
Lynchburg Symphony Orchestra 
621 Court Street
Lynchburg, VA 24504